INTRODUCTION
Founded in 1992 by singer/composer Margy Crowningshield, singers Cynthia Frank and Sharon Hansen, and poet Karin Faulkner, the Mendocino Women's Choir has been together for almost twenty years. We're a feminist, progressive, loving and sassy, non-audition community choir. Over the years, the size of our choir has varied from 24 to 105 singers (yikes!), and our ages have ranged from 14 to 75. We perform a variety of music, from Mozart to Bartok, Bulgarian folk music to America doo-wop, Holly Near to Gregorian chant, and PDQ Bach to gospel.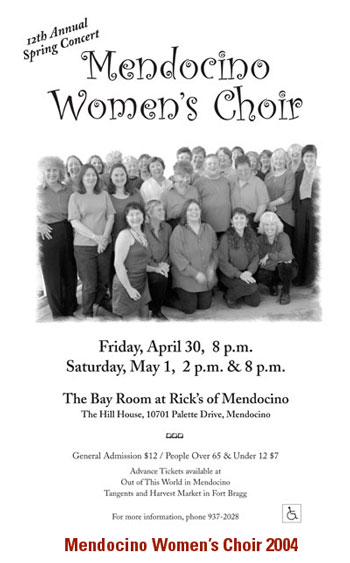 We've performed for weddings, birthdays, and memorials, at sickbeds and parades, for environmental causes, museum dedications, and political fundraisers. We've had the pleasure of joining the Mendocino Music Festival Chorus for Beethoven's Ninth Symphony, the Brahms Requiem, Mozart's Mass in C Minor, Stravinsky's Symphony of Psalms, Orff's Carmina Burana, and an evening of opera choruses.
Occasionally, we get to travel together and sing outside of Mendocino County. We've had marvelous adventures singing at the Northern California Women's Choir Invitationals, the Northern California Women's Music Festival, West Coast A Cappella Summits, Carnegie Hall, the Chapel at Ground Zero, and the Northern California Women's Chorus Dinner Party Tour to Los Angeles.
And now, we're preparing to travel to London in June 2012 to sing under the baton of Rollo Dilworth at Southwark and Canterbury cathedrals as part of the pre-Olympics celebrations. We will also present a benefit concert for a nonprofit in London. And when we arrive at Stonehenge, our music will fill the air!
To help provide scholarships for choir members who would not otherwise be able to sing with us in London, we're publishing a cookbook, Recipes for a Song.
As we've learned to combine vocal ingredients into a sonorous repast; as we learn the notes, the rhythms, the dynamics, and explore the musical and emotional subtleties of each song, we blend each individual voice into the whole choir. Then we add a soupçon of riser choreography, dancers, and percussion. We garnish our performance with small ensembles and soloists. We've done much the same thing with this cookbook. Each choir member or supporter has submitted recipes in her or his tonal range. Coming from our hearts and our varied experience, each recipe has different rhythms and counterpoint – you are invited to add your own spicy rhythms or personal harmonies.